I believe in a creative process that starts with a simple idea: listening to the client.
My ability to design to my clients' vision is what sets me apart,
leading to the highest quality results, every time.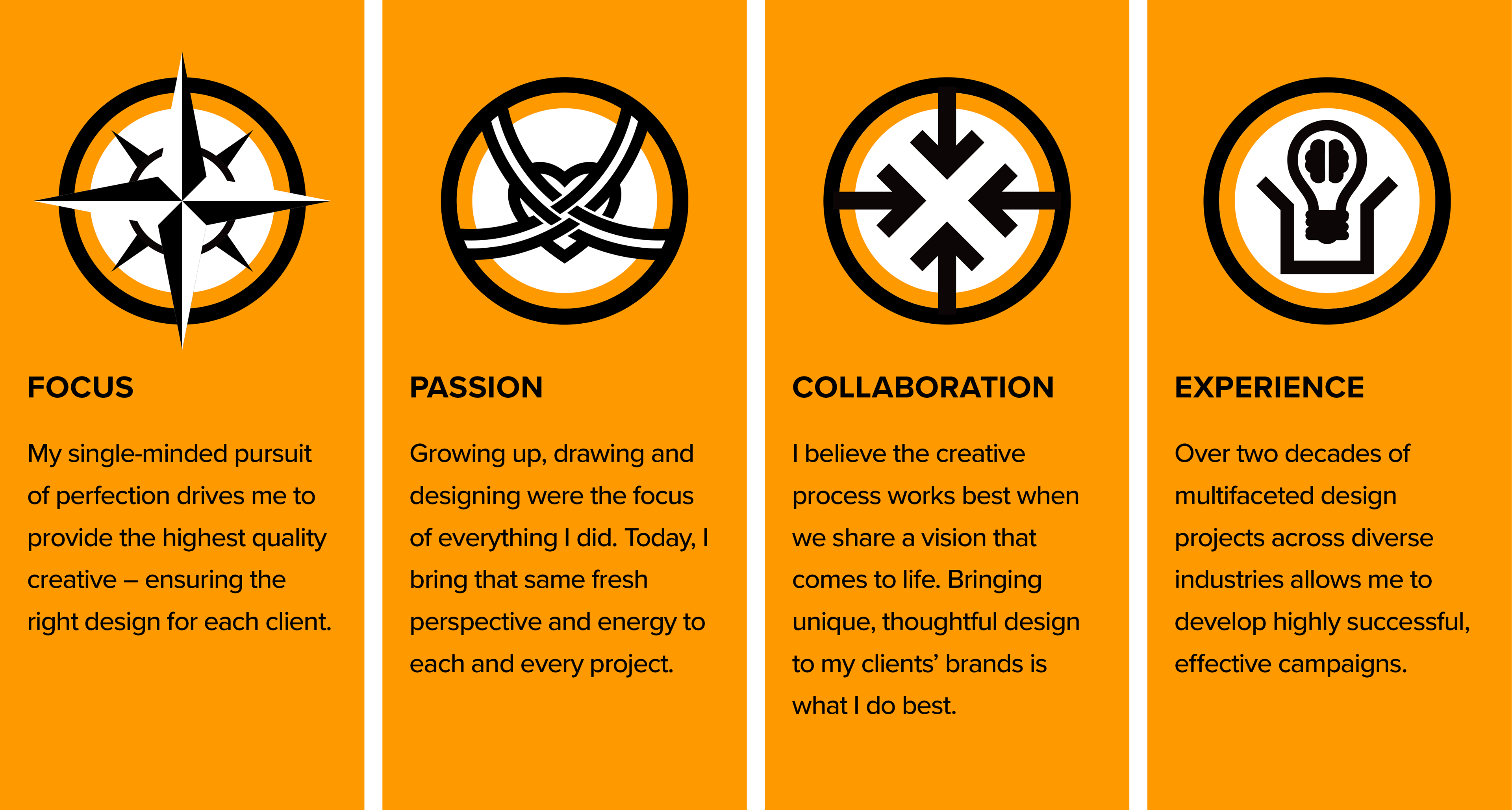 In today's world, the design landscape has dramatically shifted. Brand-centric design has been replaced with a customer-centric approach that is all about connecting with your audience.
Every design decision needs to be made with the understanding that marketing is no longer a statement to the customer. It is a two-way discussion with them.
My design approach is about that unique collaboration between your customer and your branding statement. Every campaign consi

ders how

to create deep and lasting engagement, providing opportunities for amplification through social media, PR and word of mouth.
My experience allows me to create the best possible story for your brand. Combining illustration, graphic design and art direction, each project is looked at through multiple lenses to ensure the right tools are being used.
Every element of your project is given careful consideration. I am deeply focused on the big picture goals, alongside the critical details.
Today, branding and design need to work across multiple platforms, from digital touch-points to on-shelf packaging. My expertise allows me to optimize your brand design for omni-channel consumer experiences.​​​​​​​
Branding and logo design have been a passion and focus, throughout my career. 
My work has been featured in many highly successful packaging, visual merchandising and sales promotions campaigns.
Over the past two decades, through my leadership roles in consumer goods organizations, I have had the opportunity to spearhead the creative direction for multiple design, advertising and illustration projects. 
My success in developing awareness and equity for licensed, private label brands and manufacturer brands
 has been a hallmark of my career. I have enjoyed the opportunity to drive consumer awareness and attention in the following industries:
I have had the pleasure of working on successful visual merchandising campaigns such as:
• Test Market Signage Roll-Outs
• Wayfinding Design Systems
• Sales Promotional Event Signage
• Indoor and Outdoor Banners
• Oversize Signage & Scrim Graphics
• Trade-Show Signage and Graphics 

​​​​​​​